In the past 250 years (and possibly earlier) there have been a number of Ecclesiastical compositions known to belong in a special type of Barys Diatonic Mode which is often identified as Barys Tetraphonos or maqam Bestenigar by some psaltai. The earliest well known composition that we know of in this mode is a doxology of Iakovos Protopsaltis in late 18th century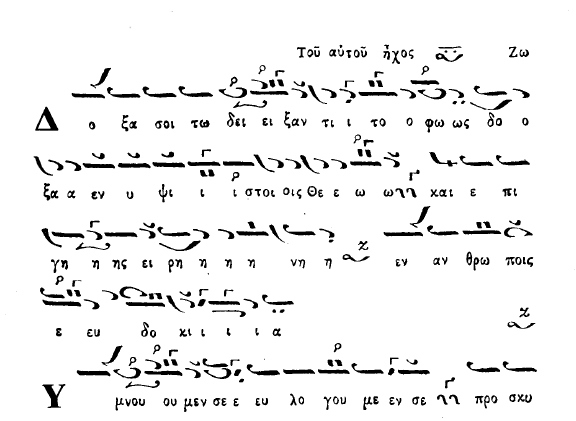 (scanned from Mousike Pandekte, 1850, vol 2, click for original size)
According to most of the -relatively few- Byzantine theoreticians that talk about this mode, Barys Tetraphonos uses the "diatonic scale" where DI is flattened temporarily or permanently (throughout the piece) and ZW is also flattened sometimes as in other diatonic modes. Since no mention is made about GA, one assumes that GA is meant to be performed natural. Indeed, this theory corresponds exactly to the way maqam Bestenigar is performed today in secular (external) music. However, this theory does not correspond to modern psaltic practice. In all recorded performances of such pieces, Barys Tetraphonos does not use "the diatonic scale". It uses "a diatonic scale" of its own which requires new theory to describe it. Some theoreticians, Konstantinos Psahos being the first of them, already tried to present such a new theory in the past but their views appear incomplete and sometimes incorrect. In this page, we examine the history of the issue, the different theories and compositions from both Ecclesiastical and Secular repertoire and we attempt to draw conclusions regarding questions such as:
When does Barys Tetraphonos appear in Ecclesiastical music?
Why do most chant theoreticians not talk about Barys Tetraphonos?
Why do even modern theoreticians present an incorrect theory about this mode?
Are there more than one type of Barys Tetraphonos in Ecclesiastical music?
Why is Barys Tetraphonos different than modern maqam Bestenigar?
Could maqam Bestenigar have been the same as Barys Tetraphonos in the past?
Are papadic pieces of Barys Diatonic meant to be chanted in Barys Tetraphonos?
What do the chromatic fthorai mean in pieces of Barys Diatonic?
Is Barys Tetraphonos an Authentic (Kyrios) or Plagal mode?
What is the apechema of Barys Tetraphonos?
How should Barys Tetraphonos be notated in scores?
and more...
We support our conclusions with as many scores and recordings of this mode as we could find.