Good day.
I have a question about Byzantine orthography.
How to write this cadence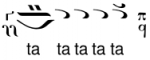 , if the initial martyria is not Ga, but Pa?
Which version is the most correct?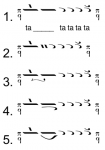 According to the "book of 106 rules" in this case, option 1 is written, but I don't see an error in writing option 3 or 4. Or maybe there is some other?