Friends - καλή χρονιά! Χρόνια πολλά for Ss. Athanasios and Cyril.
I'm pleased to announce that John Michael Boyer's
Byzantine Chant: The Received Tradition, A Lesson Book
is now available for pre-order from Cappella Romana Publishing. Order now for the early bird price of $74.99, discounted from $89.99. Pre-orders will ship on the book's release date, February 24, 2023. (US orders only at this time; details on international fulfillment coming soon.)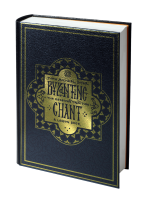 John's book includes thorough, systematic instruction on notation and modal theory. It is also an excellent reference on historical development, style, repertoire, genres, and bibliography.
Includes a letter of blessing from His Eminence, Metropolitan Gerasimos of the Greek Orthodox Metropolis of San Francisco. Forewords by the Rev. Fr. Dr. Romanos Karanos, Professor of Byzantine Music at Holy Cross Greek Orthodox School of Theology, and Dr. Achilléas Chaldæákis, Professor of Byzantine Music and the Psaltic Art at the National and Kapodistrian University of Athens.
For book details, including preview pages, as well as to pre-order, click here:
https://cappellaromana.org/announci...tradition-a-lesson-book-by-john-michael-boyer
Byzantine Chant: The Received Tradition
launches
Cappella Romana Publishing
, Cappella Romana's new imprint for high quality publications of scores, scholarship, and pastoral materials related to and celebrating the ecclesiastical music of the Greek Orthodox Church in all of its richness and variety.
For all questions related to Cappella Romana Publishing, including wholesale inquiries, please contact me any time at
richard@cappellaromana.org
.
Many thanks!
Richard